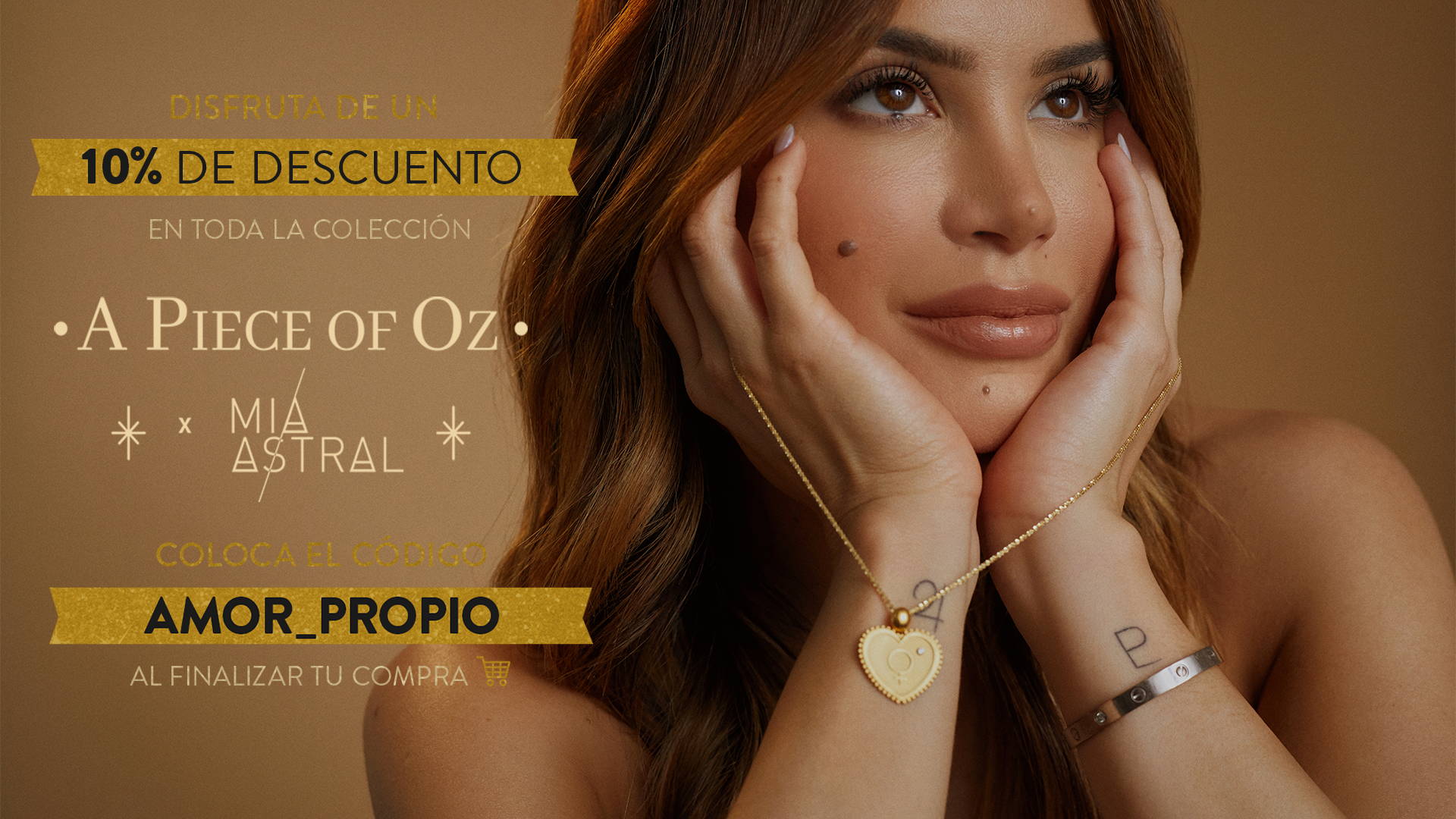 ---
10% de Descuento en Todos los Modelos
Coloca el Código AMOR_PROPIO en el carrito de compra
---
La unión del Universo creativo y el de la astrología te trae una línea de joyería para llevar contigo piezas que hagan eco de tu intención y representen tu potencial. 
---
A Piece of Oz for Mia Astral es una línea de joyería que se centra en los valores conjuntos de las marcas Miastral y A Piece of Oz: feminidad, empowerment, belleza, espiritualidad. Esta colaboración es el resultado de la fusión de dos universos llenos de buen gusto y magia. Sus piezas están inspiradas en los signos zodiacales y sus planetas regentes.
Su razón de ser es hacer tangible la conexión de cada persona con sus astros regentes, propiciar que la persona que lo adquiera le dé una intención a estos maravillosos objetos alegóricos.
---
---
A Piece of Oz es el branding personal de la diseñadora y directora creativa Olatz Zanguitu quien interpretó el mundo Mia Astral para dar vida a esta colección de joyería llena de significado, intención e inspiración.
---
Subscríbete a nuestro
Newsletter

Subscríbete a nuestro newsletter y déjanos seguir inspirándote. Sé la primera en recibir noticias recientes, información de productos, promociones, descuentos exclusivos y más acerca de A Piece of Oz x Mia Astral.
Thanks!
This field is required
This field is required
This field is required
---
¿Todavía no conoces nuestro perfil de Instagram? ☞ @apieceofoz
Sé parte de este universo! Usa el hashtag #OzxMia para descubrir nuevas publicaciones o compartir tu experiencia.